1066 Battle Private Guided Tour
Half Day (2 – 3 hour approx) restricted to your group and can be customised to suit your requirements
Available morning or afternoon
This tour includes a walk of around 2 miles over flat and gentle inclines. The battlefield site covers sometimes rough and uneven terrain as well as a number of steps making that part of the tour unsuitable for wheelchairs and buggies.

The scene above shows the view from the top of Senlac Hill, the site claimed to be the location of the Battle of Hastings.
We will begin our 1066 Battle tour from the seats at the roundabout where the Upper Lake part of the A2100 meets Lower Lake. This location, which is our meeting point, is where some sources suggest the battle took place.
I will begin our tour by explaining the background to the 1066 conflict and the reasons why William felt the English crown should be his. Next, I will explain the events of 1066 up to the Norman Invasion at Pevensey on 28th September 1066.

Here we can see Caldbec Hill which is acknowledged as the muster point for Harold's Saxon army and also thought by some to be the Battle of Hastings site.
I will explain why the location of the battlefield site is disputed and we will consider the pros and cons for each site being the Battlefield. We will then move on to Battle Abbey passing by St Mary's church, which was built by the the monks of the Abbey around 1115.
Please note: it may not possible to go inside the church if entrance is being restricted or a service is taking place.
Battle Abbey was built on the order of William of Normandy to give thanks for his victory over the Anglo-Saxons.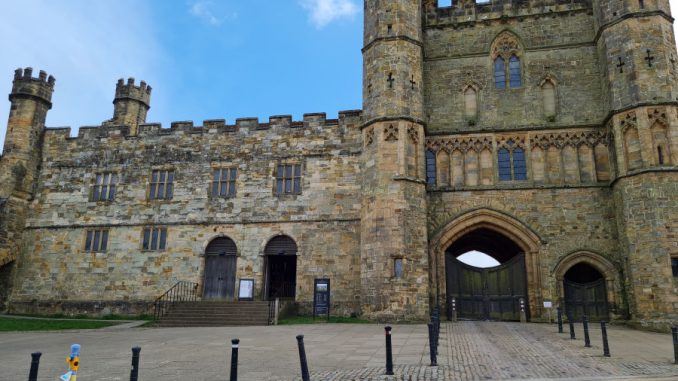 Inside the abbey we will walk to the position acknowledged to be the ridge where Harold placed his shield wall. We will then walk the battlefield. Along the way I will explain the battle strategies used by each side as well as the weapons used. I will explain the tactics used by William to win the Battle of Hastings.
Leaving the battlefield we will walk past the ruins of the abbey to see the spot where Harold II fell. Here, I will explain what William did in the days immediately following the Battle of Hastings and how he managed to secure the backing of the Ealdormen for his coronation on 25th December 1066.
The tour will end inside Battle Abbey so that you have the option to stay longer inside the grounds.
Prices
price per tour (not per person)
£180 up to 3 people
£225 up to 5 people
£265 up to 7 people
(price includes entrance to Battle Abbey –
For members of English Heritage the price will be reduced by the entrance charge)
If you are a single traveller please do ask if we can offer a reduction in price as this is sometimes possible.
To book a tour please use our booking form