1066 Pevensey Private Guided Tour
Half Day (2 – 3 hours) – is restricted to your group and can be customised to suit your requirements
Available morning or afternoon
This tour includes a walk of around 3 miles over mostly flat but rough and uneven terrain. There are a number of stiles and narrow bridges to cross  making the tour (as specified below) unsuitable for wheelchairs and buggies. We can offer a modified tour if required.

The scene above shows reclaimed marsh land stretching from Pevensey Bay to Pevensey Castle. The castle, just visible behind the tree-line, in the centre of the picture, marked the coast and harbour wall in 1066.
We will begin our 1066 Pevensey tour at the East Gate of the Roman Fort which surrounds Pevensey Castle, opposite the Royal Oak and Castle Pub.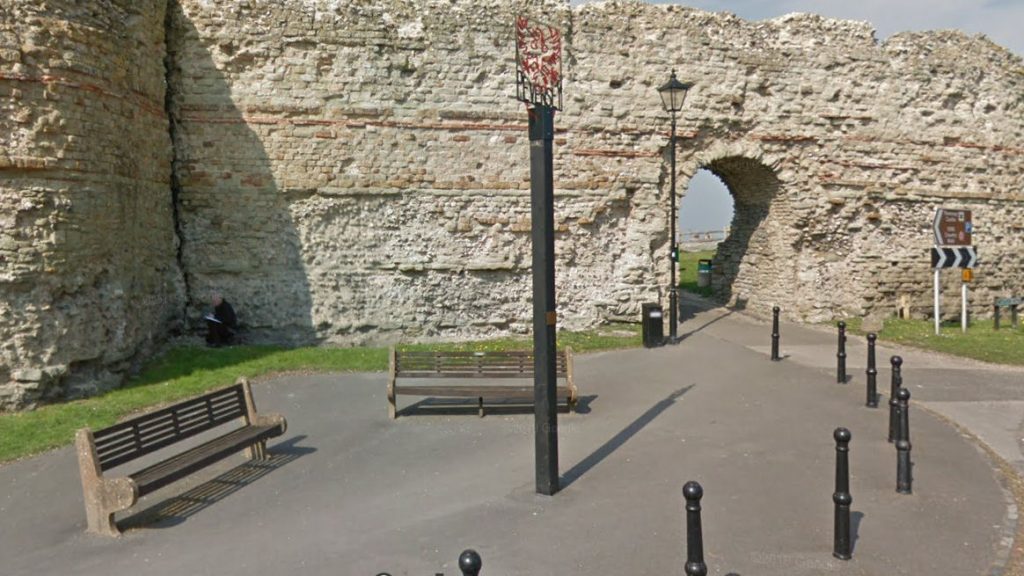 I will begin our tour by explaining the geography of the area in 1066 and looking at the reasons why William chose this spot to land his army. I will then explain the background to the 1066 conflict and the reasons why William chose to invade.
We will then walk behind the castle to get an idea of what it was like for the Normans to approach Pevensey by sea.
As we continue towards Pevensey Castle we will stop at a vantage point so that we can consider what it would have been like for the Norman Invaders approaching the harbour on September 28th 1066.
Here we will discuss the events of 1066 leading up to the Norman landing before highlighting the differences between what the Normans expected in Pevensey and what they actually found.
We will then walk back to Pevensey Castle.
The Norman Castle at Pevensey was built within the walls of an existing Roman Fort. We will pass through the Roman walls to see the moated castle (price included) and there will be free time to explore the castle ruins.
We will then leave the Roman walls and move on to St Mary's Church in the village of Westham which is said to date from 1080. I will explain why William chose to leave Pevensey and make Hastings his base. Due to lockdown restrictions it may not be possible to go inside the church.
Leaving the church, we walk through the village of Westham following the route that was taken by the Norman soldiers on the first leg of their journey to Hastings. We will walk to a vantage point where we can look out over the countryside and I can point out where they made camp for the first night.
We will then make our way back towards the castle and I will explain how William managed to win the Battle of Hastings. I will end the tour back at our starting point by explaining what William did immediately after the Battle of Hastings and how he managed to secure the backing of the Ealdormen for his coronation on 25th December 1066.
Prices
price per tour (not per person)
£120 up to 3 people
£165 up to 5 people
£190 up to 7 people
(includes entrance to Pevensey Castle –
For members of English Heritage the price will be reduced by the entrance charge)